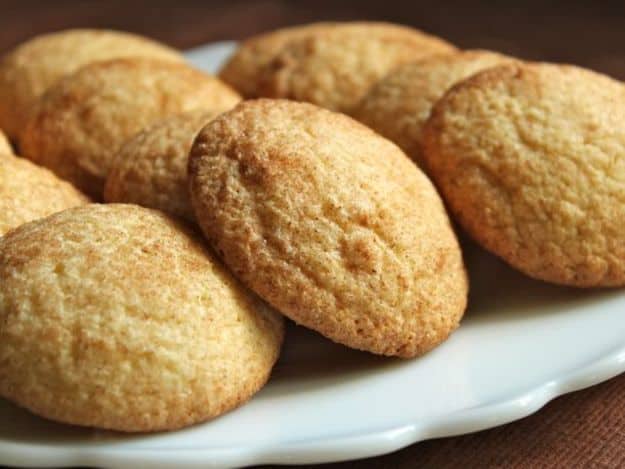 Gluten-Free Snickerdoodles: Sugar and Spice and Everything Nice
In the cookie world, snickerdoodles are a quiet charmer. Unlike fancy cutouts or "everything but the kitchen sink" cookies they don't scream for attention. But snickerdoodles also aren't boring. Thanks to a generous amount of butter, cinnamon, and vanilla, snickerdoodles are packed with flavor. And isn't that why we love them?
Their classic flavor isn't the only thing that makes a snickerdoodle a snickerdoodle. They also have a unique texture. And this is where snickerdoodle lovers divide.
I like mine puffy with crisp edges and a soft, almost cake-like center. Others prefer snickerdoodles flat and crisp. What's a baker to do? Simple—vary your recipe to suit the type of snickerdoodle you love!
For Puffy Gluten-Free Snickerdoodles
Use a mixture of butter and shortening, and a generous amount (1 1/4 teaspoons) of baking powder. The shortening prevents the cookies from spreading too much while the butter creates crisp edges and deep flavor.
For Flat and Crisp Gluten-Free Snickerdoodles
Use all butter and reduce the amount of baking powder to 1/4 teaspoon.
Either way, you'll have a classic cookie that can be made in minutes using staples you probably already have in your pantry.

Gluten-Free Snickerdoodles
Author:
GlutenFreeBaking.com
Prep time:
Cook time:
Total time:
This recipe makes puffy snickerdoodles. For flat, crisp cookies, follow the variations ingredient variation listed in the recipe.
Ingredients
6 ounces (1 1/2 cups) white rice flour
2 ounces (1/2 cup) sweet rice flour
2 ounces (1/2 cup) cornstarch
1 1/4 teaspoons baking powder (reduce to 1/4 teaspoon for flat, crisp cookies)
1 teaspoon salt
4 ounces (1 stick) unsalted butter
2 ounces (1/4 cup) shortening (replace with butter for flat, crisp cookies)
7 ounces (1 cup) granulated sugar
2 large eggs
1 1/2 teaspoons vanilla extract
Cinnamon-Sugar Mixture
1/4 cup granulated sugar
1 tablespoon ground cinnamon
Instructions
In small mixing bowl, whisk together white rice flour, sweet rice flour, cornstarch, baking powder, and salt. In large mixing bowl or bowl of stand mixer fitted with a paddle attachment, cream butter, shortening and granulated sugar together until a thick paste forms, about 30 seconds. Add eggs, one at a time. Blend thoroughly between each addition. Stop mixer and scrape down bottom and sides of the bowl. Add vanilla and mix until light and fluffy, about 20 seconds.
Stop mixer. Add dry ingredients. Turn on mixer. Blend until a dough forms. Cover dough and chill for two hours or overnight.
Preheat oven to 350°F. Line baking sheet with parchment paper. In small bowl, combined granulated sugar and ground cinnamon. Roll dough, about 1 tablespoon each, into balls. Roll dough balls into cinnamon sugar mixture and then place on prepared cookie sheet. Cookies will spread. Be sure to space the at least 2-inches apart. (I usually bake 9 cookies per rimmed baking sheet.)
Bake until lightly golden brown and aromatic, about 15 minutes. Remove pan from oven. Allow cookies to cool for three minutes and then transfer to a wire rack to cool completely. Repeat with remaining dough.