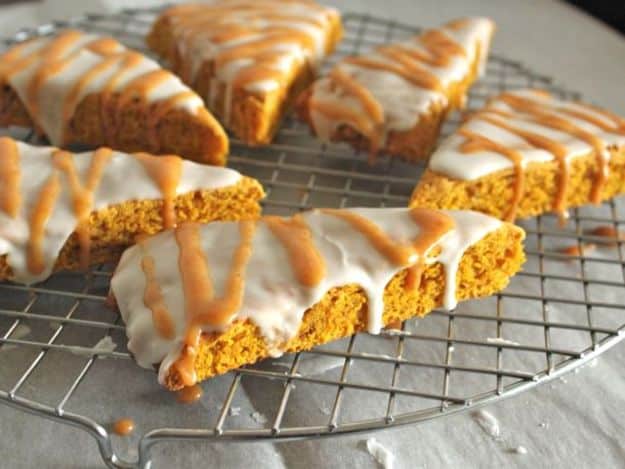 Gluten-Free Pumpkin Scones or Thank Goodness for Friends! 
Earlier this month, someone asked me to create a gluten-free version of Starbucks' pumpkin scones. I jotted the suggestion down on my to-do list and promptly forgot about it, as I'm prone to do during the holidays. Then, right in the middle of the holiday busyness, our kitchen required some work. This meant I was without an oven for about a week. My friend kindly offered her kitchen, so I looked at my to-do list for a recipe that I could easily make in someone else's kitchen. The pumpkin scones jumped out at me.
At home, I prepped all the ingredients. I cut butter into a combination of millet, sorghum, and white rice flours, and then I threw a can of pumpkin, a carton of half and half, and an egg into a tote bag. I was ready to make scones!
While talking to my friend (probably complaining about my lack of an oven), I mixed the scone batter together and popped them into her oven. About fifteen minutes later, the scones were ready.
Just as Starbucks does, I finished them with a vanilla glaze and a light drizzle of pumpkin glaze. Not only does this extra step make them visually appealing, but it adds a nice touch of spicy sweetness. The scones were tender and flavorful and, best of all, the whole process proved incredibly easy.
The simplicity of this recipe makes it ideal for the busy holiday season. When your house fills with guests and you want to make something that doesn't require too much work, these scones are perfect. The night before baking, prepare the dry ingredients and measure out the wet ingredients. In the morning, simply add the wet ingredients and bake. While the scones are baking, mix together the two simple glazes. In about an hour, you'll have pumpkin scones ready to hit the table. Even if the table's at your friend's home because your kitchen is out of service!

DRAFT: Gluten-Free Pumpkin Scones
Author:
GlutenFreeBaking.com
Ingredients
For the Scones
1 cup (4 ounces) millet flour
1/2 cup (2 ounces) sorghum flour
1/2 cup (2 ounces) white rice flour
1/2 cup (4 ounces) granulated sugar
1 tablespoon baking powder
1/2 teaspoon salt
1/2 teaspoon xanthan gum
1/2 teaspoon ground cinnamon
1/2 teaspoon ground nutmeg
1/4 teaspoon ground cloves
1/4 teaspoon ground ginger
6 Tablespoons cold butter, cut into tablespoon-size pieces
1 cup pumpkin puree
3 tablespoons half and half
1 large egg
For the Vanilla Glaze
1 cup (4 ounces) powdered sugar
3 tablespoons half and half
1 teaspoon vanilla extract
For the Pumpkin Glaze
1 cup (4 ounces) powdered sugar
2 tablespoons pumpkin puree
2 tablespoons half and half
1/4 teaspoon ground cinnamon
1/8 teaspoon ground nutmeg
pinch ground ginger
pinch ground cloves
nonstick cooking spray
Instructions
Preheat oven to 425°F. Line rimmed baking sheet with parchment paper. In large bowl, whisk together millet flour, sorghum flour, white rice flour, granulated sugar, baking powder, salt, xanthan gum, cinnamon, nutmeg, cloves, and ginger. Using your hands or a pastry cutter, cut butter into dry ingredients until no large pieces of butter remain. Mixture should resemble a coarse cornmeal.
In small bowl, whisk together pumpkin puree, half and half, and egg. Add to dry ingredients. Stir until a wet dough forms. Turn dough out onto prepared making sheet. Spray top of dough lightly with nonstick cooking spray. Using your hands, pat the dough into a circle about 1/2-inch thick. Use a sharp knife and cut the dough into 8 or 12 wedges.
Bake until golden brown, about 18 minutes. Remove pan from oven. Quickly cut wedges again. Sometimes they stick together during baking. Allow scones to cool on the pan.
Prepare the vanilla glaze Stir together powdered sugar, half and half, and vanilla together in a small bowl. The glaze should flow easily from a spoon. If it doesn't add an additional teaspoon of half and half to the glaze. Place a wire cooling rack over a piece of parchment paper. Spoon the glaze evenly over the cooled scones. Allow to glaze to harden. Prepare the pumpkin glaze. In small bowl, stir together powdered sugar, pumpkin puree, half and half, cinnamon, nutmeg, ginger, and cloves. Glaze should be thick. Transfer glaze to a piping bag. Drizzle glaze over each scone. If you don't have a piping bag, place glaze into a plastic sandwich bag and snip one of the corners to make a bag or thin glaze with half and half and drizzle from a fork onto scones.