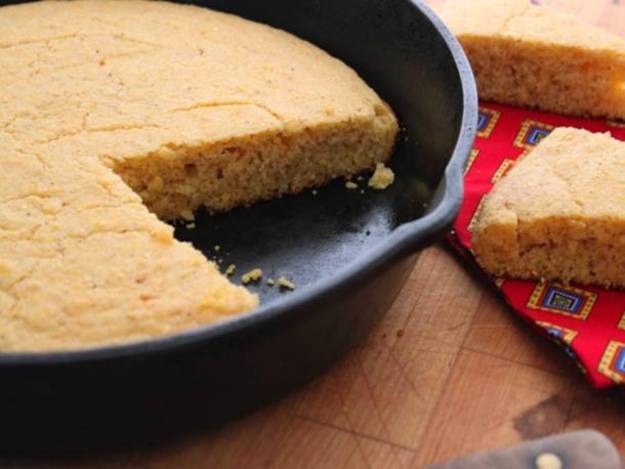 How much do I love cornbread? 100%! It's one of my favorite winter side dishes! Since I make it so much, I often play around with my recipe. When I have time–which isn't often, usually I make cornbread as a last-minute side dish–I like to add brown butter to the recipe. Oh, yes.
Brown butter's nutty-caramel flavor calls for just a touch of sweetness, so I like to a little maple syrup to this recipe. I know, I know, a cornbread recipe including sweetener sounds heretical to some. The maple syrup adds a slight whisper of sweetness, not the kind of overt sweetness you find in a corn muffin, I promise! However, if you hate sweetness in your cornbread, skip it! The recipe works fine with maple syrup or without.
Brown Butter Cornbread
Prep time:
Cook time:
Total time:
Serves:
12-inch cornbread
Ingredients
4 tablespoons (1/2 stick) butter
7 1/2 ounces (1 1/4 cups) gluten-free cornmeal
6 1/2 ounces (1 1/4 cups) brown rice flour
2 teaspoons baking powder
1/2 teaspoon baking soda
1/2 teaspoon salt
2 cups buttermilk
2 large eggs
2 tablespoons maple syrup
Non-stick cooking spray or vegetable oil for the pan
Instructions
Adjust oven rack to middle position. Place a seasoned 12-inch cast iron skillet in the oven. Preheat oven to 425 °F.
In small pot, melt butter over medium heat until golden brown, about 3 minutes. Do not overcook. Remove it from the heat and allow to cool for three minutes.
In medium bowl, combine cornmeal, brown rice flour, baking powder, baking soda, and salt. Whisk to combine. Add buttermilk, eggs, maple syrup, and brown butter. Whisk until batter forms.
Remove cast iron skillet from oven. Spray with non-stick cooking spray or lightly brush bottom and sides of pan with with vegetable oil.
Pour batter into hot pan. Batter will sizzle when it hits pan. Return pan to oven. Bake for until cornbread is golden brown and toothpick inserted into center comes out clean, 18 to 22 minutes.
Allow to cool slightly, cut into pieces and serve. Cornbread is best the day it is made.