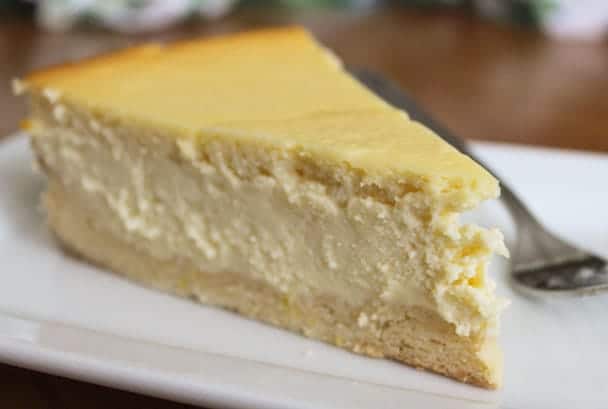 Sure, classic New York cheesecake, made with cream cheese is great. But I have a soft-spot for ricotta cheesecake. It's tangier than New York cheesecake and, dare I say it, lighter. If you've never had one before, you might be surprised by the texture. It's slightly "gritty". But not in a bad way, I promise! It's just different.
I like to flavor this cheesecake with lemon. It hightlights the slightly tangy flavor of ricotta. You could use orange juice instead of lemon. That's lovely too!
By the way, occasionally this cheesecake cracks when cooled. Don't worry about it. Just sprinkle confectioners' sugar over the top to hide the cracks!

Classic Ricotta Cheesecake
Author:
GlutenFreeBaking.com
Prep time:
Cook time:
Total time:
Serves:
one 9-inch cheesecake
Ricotta adds a tangy flavor to this cheesecake.
Ingredients
For the Crust
1/2 cup white rice flour
1/3 cup sweet rice flour
1/3 cup tapioca starch
1/3 cup confectioners' sugar
1/2 teaspoon baking powder
1/2 teaspoon xanthan gum
1/2 cup (1 stick) butter, chilled and cut into small pieces
1 large egg
For the Filling
2 pounds ricotta cheese (be sure to use "whole milk" ricotta)
1 cup granulated sugar
1/3 cup white rice flour
5 large eggs
zest of one lemon
1/4 cup lemon juice
Instructions
Preheat oven to 350 degress F.
In bowl of food processor, combine white rice flour, sweet rice flour, tapioca starch, confectioners' sugar, baking powder, and xanthan gum. Pulse to combine.
Add butter. Pulse until no large pieces of butter remain. Add egg. Pulse until dough forms, about one minute.
Press dough into bottom and up 1/3 of the side of 9-inch springform pan. Chill for 15 minutes.
Bake until golden brown, about 20 minutes.
While crust is baking, prepare filling.
In bowl of stand mixer, cream ricotta cheese and granulated sugar together until smooth. Add eggs, one at a time. Beat well between each addition. Stop mixer and scrape down bottom and sides of the bowl.
Add white rice flour and lemon juice and zest. Mix until smooth.
Pour cheesecake batter into baked crust. Bake until filling does not jiggle, about one hour to one hour and 15 minutes.
Remove pan from oven. Cool on wire rack for two hours. Chill overnight before cutting.
Makes one 9-inch cheesecake