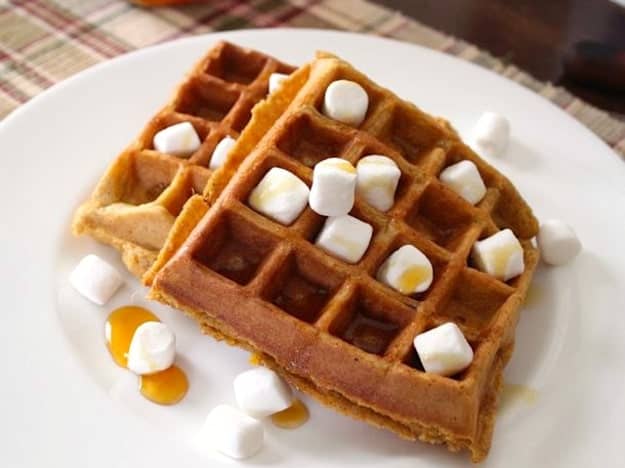 With all the turkey and side dish talk around Thanksgiving, breakfast often gets overlooked. Yet with a house full of guests on a holiday weekend, it's fun to serve something special for breakfast.
In addition to eggs and bacon, I like to whip up a batch of these sweet potato and corn waffles the day after Thanksgiving. The flavorful waffles echo the traditional flavors of Thanksgiving without tasting like leftovers. (Enough leftover-munching happens throughout the day!)
For even easier waffle-making, mix up the dry ingredients a few days before guests arrive. Then on Thanksgiving, roast a few extra sweet potatoes. This way, when you're ready to make waffles, you only need to add milk, eggs, and oil. And if you don't like sweet potatoes or don't have extra on hand, replace them with canned pumpkin.
You can even toss some mini-marshmallows on top of the waffles right before serving. It's a fun take on the classic sweet potato casserole, a dish that never finds its way onto my Thanksgiving table.
Sweet Potato Casserole Waffles
Author:
GlutenFreeBaking.com
Prep time:
Cook time:
Total time:
Sweet potato note: For the sweet potato puree, roast one large sweet potato in its skin in a 350°F oven. Allow to cool. Cut and remove flesh. Stir with a fork until smooth. Pumpkin alternative: If you don't want to roast sweet potatoes, replace the one cup of sweet potato puree with one cup of canned pumpkin filling.
Ingredients
1 cup (4 1/2 ounces) gluten-free corn flour
1/2 cup (2 ounces) sorghum flour
1/2 cup (2 1/2 ounces) cornstarch
2 tablespoons dark brown sugar
1 tablespoon pumpkin pie spice
1 tablespoon baking powder
1/2 teaspoon salt
1/2 teaspoon xanthan gum
1 1/4 cups milk or dairy-free milk replacement
1 cup sweet potato puree (see note above)
2 large eggs
1/4 cup vegetable oil
maple syrup, butter, and marshmallows for serving, optional
Instructions
Preheat waffle iron and lightly grease with non-stick cooking spray. In large mixing bowl, whisk together cornflour, sorghum flour, cornstarch, dark brown sugar, pumpkin pie spice, baking powder, salt, and xanthan gum. In medium mixing bowl, whisk together milk, sweet potato puree, eggs, and vegetable oil until smooth.
Pour wet ingredients over dry ingredients, whisk until smooth. You can use a handheld (balloon) whisk for this or an electric mixer. Ladle batter into preheated waffle iron according to manufacturer's instructions. Cook waffles until crisp. Hold finished waffles in a warm oven while you cook remaining batches.