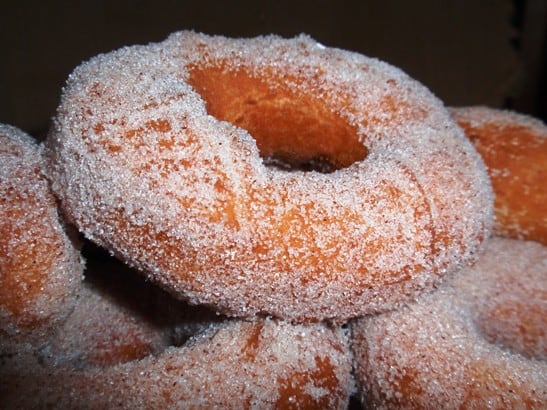 Culinary confession: I love old fashioned doughnuts so much that I don't even mind if they're stale. In fact, a slightly stale doughnut dipped into coffee, in my opinion, is an under-appreciated delicacy.
These doughnuts are a classic cake doughnut. The outside is crisp and the interior is soft, tender, and just lightly scented with nutmeg.

Old Fashioned Gluten-Free Doughnuts
Author:
GlutenFreeBaking.com
Prep time:
Cook time:
Total time:
Roll these doughnuts in cinnamon-sugar or leave them plain. They are great either way.
Ingredients
Dry Ingredients
2 1/2 cups white rice flour
1/2 cup potato starch
1/2 cup tapioca starch
1/2 cup granulated sugar
1 teaspoon baking soda
1/2 teaspoon baking powder
1 teaspoon salt
1 teaspoon xanthan gum
1/4 teaspoon ground nutmeg (or 1/2 teaspoon ground cinnamon)
Wet Ingredients
1 egg
1 cup buttermilk
2 Tablespoons vegetable oil
Oil, for frying
For Rolling
1 cup granulated sugar
1 teaspoon ground cinnamon
Instructions
In a small bowl, combine the granulated sugar and ground cinnamon for rolling. Set aside.
In a medium mixing bowl, whisk together dry ingredients.
Add wet ingredients.
Mix until a dough forms. (Use medium-high speed on a handheld mixer and medium speed on a stand mixer.) Dough will be thick and sticky.
Generously white rice flour your counter. This dough is sticky. So, you need a good amount of white rice flour on the counter to prevent it from sticking.
Turn half the dough out onto your floured countertop. Generously white rice flour the top of the dough. Pat the dough into a rectangle. Roll out, using a rolling pin, to about 1/2-inch thick using a doughnut cutter. (Or you can use two round cutters. First cut the large round, then cut the small center hole. This center hole, believe it or not, is important. It helps the doughnut to fry evenly.)
Repeat with remaining dough.
Place cut doughnuts on a lightly white rice floured baking sheet.
Fill a fryer according to manufacturer's directions. Heat oil to 375 degrees.
Depending on the size of your fryer, fry one to three doughnuts at a time. It is better to err on the side of frying fewer doughnuts. This will keep your oil hot and your doughnuts won't get greasy.
After one minute, flip doughnuts over and fry until each side is golden brown.
Using a heat-safe spatula, remove doughnuts from the hot oil. Drain on paper towels and toss into cinnamon sugar mixture.
Repeat. And be sure to use the doughnut dough scrapes for doughnut holes! Don't let it go to waste!