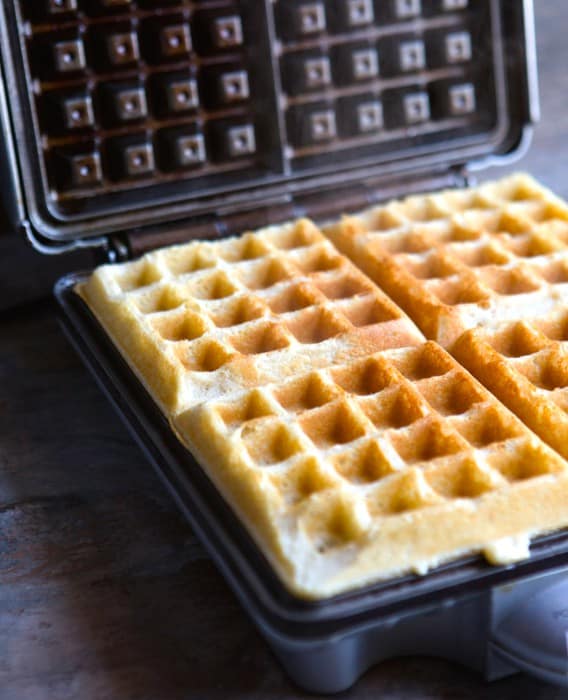 My Sunday mornings usually include waffles or pancakes. Since I'm not a morning person, I need those recipes to be easy. I'm never in the mood to whip up egg whites on a Sunday morning. Unlike many waffle recipes, this one doesn't ask that of me.
Instead, you'll see that it uses a generous amount of baking powder. The baking powder, combined with white rice flour, cornstarch, and sweet rice flour, makes for a light and crispy waffle.
The recipe, as written, uses "white" flours. Feel free to use any whole grain flour you'd like in place of the white rice flour or sweet rice flour. You want to replace the flour one for one. So if you want to replace the white rice flour with millet flour, use 4 ounces of millet flour. Or you could use 2 ounces of millet flour and 2 ounces of sorghum flour. As long as you use 4 ounces total, you're all set. When made with a different flour, the texture of the waffles changes–usually the waffles get a bit denser. But they still work and taste delicious.
How to Make Crispy and Light Gluten-Free Waffles
Author:
GlutenFreeBaking.com
Prep time:
Cook time:
Total time:
These waffles bake up crisp on the outside and tender and light on the inside.
Ingredients
Dry Ingredients
4 ounces (1 cup) white rice flour
2 ounces (1/2 cup) cornstarch
1.25 ounces (1/4 cup) sweet rice flour
1 tablespoon baking powder
1 tablespoon granulated sugar
1/2 teaspoon salt
1/2 teaspoon xanthan gum
Wet Ingredients
1 1/4 cups milk
2 large eggs
1/4 cup vegetable oil
1 teaspoon vanilla extract
non-stick cooking spray
Instructions
In a medium mixing bowl, whisk together white rice flour, cornstarch, sweet rice flour, baking powder, granulated sugar, salt, and xanthan gum. In small bowl, whisk together milk, eggs, oil, and vanilla extract until smooth.
Pour wet ingredients over dry ingredients. Using balloon whisk or handheld mixer, blend until batter is smooth. No lumps should remain.
Heat waffle iron according to manufacturer's directions. Spray iron generously with non-stick cooking spray. Spoon batter onto hot iron (amount of batter will vary depending on your iron) and bake until golden brown and crisp.