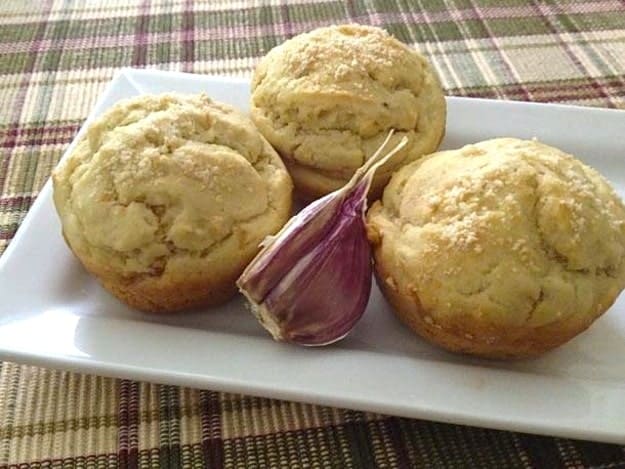 I know, I know, the Thanksgiving table doesn't really need a bread basket. But…I can't help it! I always make bread for Thanksgiving! And one of my favorite things to add to the basket are savory garlic and onion muffins! Yup! Muffins.
Like their sweet cousins, these muffins welcome variations. In fact, the recipe began its life as a summery garlic-dill muffin. Since dill doesn't really go well with Thanksgiving dishes, I kicked it out! To be honest, I like the garlic and onion variation much better. To me, these taste almost like garlic bread. YUM!
Unlike other savory quick breads, like biscuits, which are best enjoyed as soon as they come out of the oven, these muffins taste fine several hours after baking. If you have the time, bake a batch in the morning before you start the turkey. If that doesn't work for your planning, whisk together the dry ingredients. Then, when you take the turkey out of the oven to rest, add the wet ingredients and bake the muffins! They'll be ready about the same time as the turkey!

Gluten-Free Onion and Garlic Muffins
Author:
GlutenFreeBaking.com
Prep time:
Cook time:
Total time:
For Garlic Bread Muffins: Omit the onion. Increase garlic to five cloves and parmesan cheese to 1/2 cup. For Herb Muffins: Stir 1 tablespoon of dried herbs into the batter. For milder herbs, like basil, consider increasing the amount to 1 1/2 tablespoons. For stronger herbs, like rosemary, reduce amount to 2 teaspoons. For Caramelized Onion Muffins: Add 1/2 cup cooled caramelized onions to the batter. For Dairy-Free Muffins: Replace the milk with dairy-free milk and omit cheese. Dairy-free muffins bake off lighter than muffins with dairy.
Ingredients
Non-stick gluten-free cooking spray
1 cup (about five ounces) brown rice flour
1/2 cup (about 2 1/2 ounces) sorghum flour
1/2 cup (about 2 ounces) potato starch
1/4 cup grated parmesan cheese, plus additional for sprinkling
1 tablespoon baking powder
1/2 teaspoon salt
1/4 teaspoon xanthan gum
1/4 teaspoon freshly ground black pepper
5 tablespoons butter, divided
1 medium onion, diced (about 1 cup)
4 medium cloves garlic, minced (about 4 teaspoons)
1 cup milk
1 large egg
Instructions
Adjust oven rack to middle position. Preheat oven to 400°F. Spray 12 muffin cavities with non-stick cooking spray. Set pan aside.
In medium mixing bowl, whisk together brown rice flour, sorghum flour, potato starch, 1/4 cup parmesan cheese, baking powder, salt, xanthan gum, and black pepper.
Melt 1 tablespoon butter in medium skillet over medium heat. Add onion. Cook, stirring frequently, until soft but not browned, about four minutes. Add garlic, reduce heat to medium low, and continue cooking, stirring frequently, until soft and aromatic, about 3 minutes longer. Remove from heat and allow to cool.
Melt remaining 4 tablespoons butter. Allow to cool slightly. Add milk, egg, and melted butter to whisked dry ingredients. Whisk until batter is smooth. Switch to rubber spatula. Fold in onion-garlic mixture.
Divide batter evenly between prepared muffin cavities. Sprinkle top of each muffin with a little parmesan cheese. Bake until muffins are golden brown and spring back to the touch, about 25 minutes.
Remove muffins from pan and place on wire rack to cool. Serve warm or at room temperature. Store leftover muffins on the counter, covered, for up to two days.