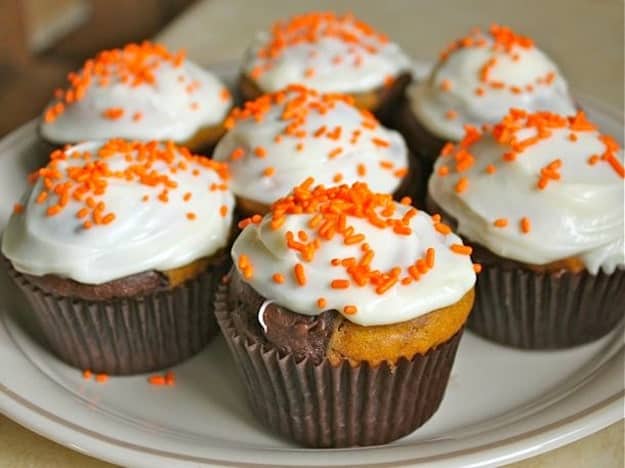 Forget the candy, my favorite treat at school Halloween parties were the frosted marble cupcakes decorated with a mellowcreme pumpkin. (I loved (loved, LOVED! the mellowcreme pumpkins because they tasted like giant pieces of candy corn. And back then I loved candy corn.)
Those schooltime marble cupcakes inspired this recipe. But instead of swirling vanilla and chocolate cake batter together, I combined pumpkin and chocolate batter; the spiciness of the pumpkin cake works really well with chocolate. It adds a subtle spiciness to the chocolate without overwhelming it.
Not only are these cupcakes flavorful, they're incredibly light. During baking, the batter just about doubles in size. So be sure not to fill the cupcake cavity more than halfway full with batter or you might need to deal with overflowing pans.
To finish the cupcakes, ice them with a simple cream cheese buttercream. If you want to keep the cupcakes dairy-free, use a dairy-free cream cheese replacement, like the one from Tofutti.
 And if you'd like to decorate the cupcakes with candy corn or mellowcreme pumpkins, just a note that not all mellowcremes/candy corn is gluten-free.
Gluten-Free Marble Pumpkin Cupcakes
Author:
GlutenFreeBaking.com
Prep time:
Cook time:
Total time:
Ingredients
For the Cupcakes
2 1/2 cups (10 ounces) white rice flour
1 1/2 cups (10.5 ounces) granulated sugar
1/2 cup (3 ounces) potato starch
4 teaspoons ground pumpkin pie spice
2 teaspoons baking soda
1 1/2 teaspoons salt
1 teaspoon xanthan gum
5 ounces dark chocolate, chopped
4 large eggs
3/4 cup (5 1/2 ounces) canola or vegetable oil
1 (15-ounce) can pure pumpkin (not pumpkin pie filling)
1/2 cup (4 ounces) water
For the Icing
1 stick (4 ounces) unsalted butter, softened or dairy-free butter replacement
4 ounces cream cheese, softened or dairy-free cream cheese
2 cups powdered sugar
1 tablespoon milk or milk replacement
Instructions
Adjust oven rack to middle position and preheat oven to 350°F. Line 24 standard muffin cavities with paper liners.
In large bowl or bowl of stand mixer, whisk together white rice flour, granulated sugar, potato starch, pumpkin pie spice, baking soda, salt, and xanthan gum.
In microwave-safe bowl or on top of a double boiler, melt chocolate. (If using the microwave, heat on high for 30 seconds. Remove bowl and stir. Repeat until chocolate is fully melted. If using double boiler, bring water to a simmer, set bowl on top of double boiler. Stir until chocolate melts.) Set chocolate aside.
Add eggs, oil, pumpkin, and water to dry ingredients. Whisk or mix on medium speed until batter forms. Spoon half of batter into a separate bowl. Add melted chocolate to half of the batter. Stir to combine. Batter will be thick.
Spoon an equal amount of pumpkin and chocolate batter into each prepared muffin cavity. Batter should not fill the cavity more than halfway. Don't worry about swirling the batters. They mix during baking.
Bake until a cake tester inserted into the center of each cupcake comes out clean, about 30 minutes. Remove pan(s) from oven. Allow cupcakes to cool in pan for five minutes before turning out onto a wire rack to cool completely.
For the icing: In large bowl, cream together butter and cream cheese with an electric beater until smooth. Add powdered sugar and milk. Mix until smooth. If icing is thick, add an additional teaspoon of milk. Spread on cooled cupcakes.