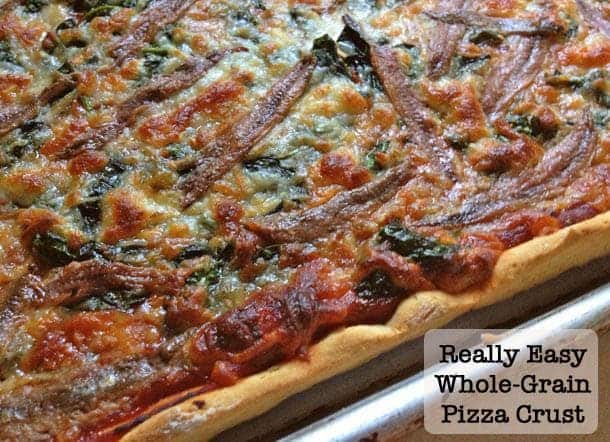 I love pizza! And I'm always tinkering with new recipes, using different flours, adding dried herbs to the crust, you know, playing.  But when I want to make a quick pizza, I grab a box of Chebe all-purpose bread mix. While I don't like the tapioca-based mix "plain", it's great when you add some gluten-free flour to it. Lately, I add millet and corn flour. This combination doesn't taste like corn, instead it tastes like gluten-y semolina flour. And thanks to the stretchy nature of modified tapioca starch, the recipe doesn't require xanthan gum.
All you need to do is open the bag, add the flours, eggs, water and oil and stir. That's it! The dough relies on baking powder not yeast for its rise, so I mix it up while the oven preheats. No waiting needed!
The one step that requires the most time is pressing the dough into the pan. The dough is sticky. So instead of rolling it out, I divide it into quarters and place one quarter into each corner of the pan. Then I press, press, press the dough into the pan. After a minute or so, the dough quarters come together and cover the entire pan.
After pressing out the dough, bake it (untopped!) until golden brown. Then remove the pizza from the oven, top as you wish, and return to the oven. That's it! Pizza in about an hour!

Easy Whole Grain Gluten-Free Pizza Crust
Author:
GlutenFreeBaking.com
Prep time:
Cook time:
Total time:
The recipe uses millet flour and corn flour. Feel free to use whatever whole grain gluten-free flour you enjoy. Just don't skip the Chebe mix or the recipe won't work.
Ingredients
1 (7.5 ounce) package Chebe Bread All-Purpose Mix
4 ounces (1/2 cup) millet flour, plus extra for dusting
4 ounces (1/2 cup) gluten-free corn flour
2 teaspoons baking powder
1 cup water
2 large eggs
3 tablespoons olive oil
Instructions
Preheat oven to 425°F. Spray a rimmed baking sheet with non-stick cooking spray. Set pan aside.
In medium mixing bowl, whisk together Chebe mix, millet flour, sorghum flour, and baking powder. Add water, eggs, and olive oil. Stir together with a wooden spoon until a thick, sticky dough forms.
Loosely divide dough into quarters. Generously flour each dough quarter with millet flour. Do the same with your hands. This dough is sticky. Be sure to use enough flour. This prevents it from sticking.
Use your hands and press dough into the pan. The motion is something like "press and stretch." If your hands begin to stick to the dough, add more flour. Work the dough so all four quarters meet and cover the pan evenly.
Bake until lightly golden brown, about twenty minutes.
Remove pan from oven. Increase oven to 475°F. Top pizza as desired. Return to oven and bake until cheese bubbles and is golden brown.